News
"Piece Peace Products" Donation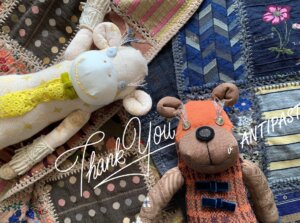 ANTIPAST のソックスや余り生地から生まれた Piece Peace Products のアイテムたち…
今シーズンのその売上の一部を
ユニセフ、国境なき医師団、アムネスティインターナショナルへ寄付いたしました。
これからも残った材料を無駄なく使い、
その売上の一部で世界中の平和を守る活動を支援していきます。
ANTIPAST's "Piece Peace Products" are made by old unused socks and fabric scraps.
Parts of their sales have been donated to UNICEF, Médecins Sans Frontières and AMNESTY INTERNATIONAL.
We will support world peace and health by using our material without waste.
Warmest wishes to all for a wonderful holidays!!
Hikaru Noguchi * ANTIPAST Special Socks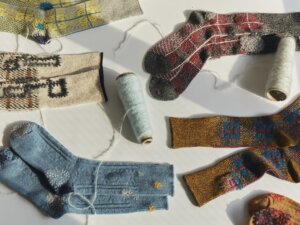 デザイナー同士が旧知の仲だったことから生まれた、
Hikaru Noguchi×ANTIPASTのスペシャルなコラボレーションアイテム。
ANTIPASTのローゲージソックスが、
デザイナー野口光さんに、ひとつひとつ手作業でダーニング加工・ニット刺繍を施され
まったく新しいデザインとして生まれ変わりました。
同じものはふたつとない特別な一足を、誰かへの・自分へのプレゼントにしませんか。
From the friendship between Hikaru Noguchi and ANTIPAST,
our special collaboration has realized.
ANTIPAST's socks have been completely reborn with hand knitting by Hikaru Noguchi.
These socks will be available from November 30 to December 27.
For the Holiday gift to someone you love or to yourself!
*Sorry but we only ship within Japan. International delivery is not available.
We appreciate your understanding.
Server Maintenance on November 24
11月24日(水)はサーバーメンテナンスを実施いたしますため、
一時的にウェブサイトおよびオンラインショップがご覧いただけず、
また、お問い合わせメールアドレスも送受信ができない状態となります。
2-3日以内にお問い合わせの返信が無い場合は
恐れ入りますが、11月25日以降に再送くださいませ。
ご不便をお掛けいたしますが、ご了承くださいませ。
We will be performing our regular server maintenance on Nov. 24(Wed).
On this day, our website and E-shop will be temporary closed.
And the ability to send / receive e-mails will be unavailable.
If you can't receive any reply from us within a few days,
please re-send your inquiry e-mail after Nov. 25.
if you can't receive any reply from us within a few days.
Thank you so much for your understanding and cooperation.