News
2021 Spring & Summer Collection
2021 Spring & Summer Collection コレクションページを公開いたしました。
We have released our latest 2021 Spring & Summer Collection on our website.
Photograph : Ayumu Yoshida
Art Direction & Design : Tomohiko Mimura (Park Sutherland)
Sock Fabric Item Donation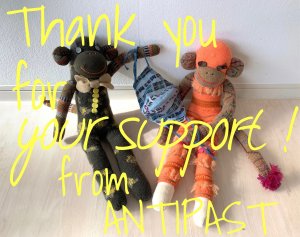 ANTIPAST のソックスや余り生地から生まれたソックモンキー。
今シーズンも、その売上の一部をユニセフへ寄付いたしました。
そして、この秋から製作を始めた布マスクの売上の一部は
『国境なき医師団』の新型コロナウイルス感染症危機対応募金へ寄付いたしました。
これからも残った材料を無駄なく使い、
その売上の一部で世界中の平和を守る活動を支援していきます。
ANTIPAST's sock monkey is made by old unused socks and fabric scraps.
Parts of its sales have been donated to UNICEF.
And since this Autumn, we are also making face masks with our sock fabric.
We have donated parts of its sales to Médecins Sans Frontières for the countermeasures for COVID-19 infection.
We will support world peace and health by using our material without waste.
Warmest wishes to all for a wonderful holiday season!
"ANTIPAST * mina perhonen" special socks are coming soon @ elävä Ⅱ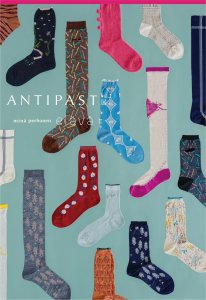 11月21日(土)よりelävä Ⅱ店にて『ANTIPAST展 vol.2』開催となります。
この展示に合わせ、mina perhonen のテキスタイルがモチーフとなった4柄のソックスをご用意いたします。
併せて20AWシーズンのソックス・ウェアアイテムはもちろん、
ギフトシーズンにぴったりな手袋やマフラー、アクセサリーもバリエーション豊かにご覧いただけます。
mina perhonen elävä Ⅱ
2020年11月21日(土) – 12月6日(日)
お問い合わせ:03-6825-8037
なお、ご来店の際はマスクのご着用、ご入店時のアルコール消毒をお願いしております。
みなさまに安心してお過ごしいただけますよう、ご協力をお願いいたします。
Announcing "ANTIPAST vol.2" exhibition at mina perhonen elävä Ⅱstore.
mina perhonen + ANTIPAST special collaborated socks will be launched.
Enjoy the Holiday mood with our socks, gloves, mufflers, and so on…
mina perhonen elävä Ⅱ
21, Nov 2020(sat) – 6, Dec 2020(sun)
For more information: 03-6825-8037
*At the entrance, you might be asked to put a mask on and to sanitize your hands.
Your cooperation would be highly appreciated.
photograph: Hua Wang