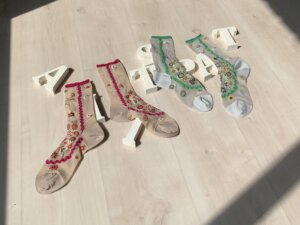 ANTIPAST ONLINE SHOP が本日よりオープンいたします。
今回は、毎シーズン人気の花柄のソックス。
これまで作り続けたアーカイブのデザインから、4柄を復刻生産いたしました。
鮮やかなもの、シックなもの、シースルーのもの、などどれも雰囲気の異なるデザインとなっておりますので、
ぜひこの夏に向けたお気に入りを見つけてください。
ANTIPAST ONLINE SHOP is going to open from May 30.
For this time, we re-produce 4 styles of floral pattern socks from our archive design.
Please find your favorite ones for this summer!
*Sorry but we only ship within Japan. International delivery is not available.
We appreciate your understanding.