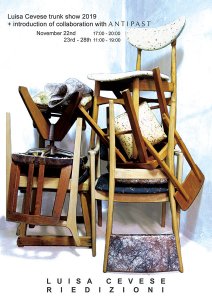 長崎市内のセレクトショップ、LAISSER-FAIRE にて
Luisa Cevese×ANTIPAST のトランクショーを開催いたします。
Luisa Cevese はテキスタイルデザイナーとして働きながら、
生地の生産過程で発生する、たくさんの糸くずや繊維といった廃棄物に疑問を感じ
それらを樹脂素材で加工することで、新しいマテリアルとして生まれ変わらせました。
自身のブランド「LUISA CEVESE  RIEDIZIONI」では、
そんなエコフレンドリーな素材を使用したアイテムを提案し続けています。
今回のイベントでは ANTIPAST のハギレ生地を Luisa がレイアウトし作製した限定アイテムをご用意いたします。
11月22日(金)は Luisa 本人も来日し、弊社デザイナー カトウ・ジヌシとともに在店予定です。
ぜひお出かけください。
11月22日(金):         17:00 – 20:00
11月23日(土)- 28日(木): 11:00 – 19:00
LAISSER-FAIRE(長崎県長崎市万屋町3-21)
お問い合わせ:095-821-5568
We would like to announce a special trunk show with Luisa Cevese at LAISSER-FAIRE shop in Nagasaki.
Luisa Cevese is a Milan-based designer with a background in textiles for fashion and interiors.
As former director of research at an Italian silk mill,
she was inspired by the industrial process to reappropriate production waste into a new material for textiles.
At her design studio, Riedizioni, Cevese encases fabric, remnants, and various recycled materials in translucent polyurethane to create one-off accessories.
For this time, she made special items with ANTIPAST's fabric scraps.
Luisa and ANTIPAST designer, Junko & Kyoko, will be at the store and waiting for your coming on 22nd(Fri) Nov.
22nd(Fri) Nov:                  5:00pm – 8:00pm
23rd(Sat) – 28th(Thu) Nov: 11:00am – 7:00pm
LAISSER-FAIRE (3-21 Yorozuyamachi Nagasaki 8500852 Japan)
for more information please contact: 095-821-5568