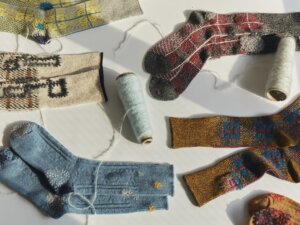 デザイナー同士が旧知の仲だったことから生まれた、
Hikaru Noguchi×ANTIPASTのスペシャルなコラボレーションアイテム。
ANTIPASTのローゲージソックスが、
デザイナー野口光さんに、ひとつひとつ手作業でダーニング加工・ニット刺繍を施され
まったく新しいデザインとして生まれ変わりました。
同じものはふたつとない特別な一足を、誰かへの・自分へのプレゼントにしませんか。
From the friendship between Hikaru Noguchi and ANTIPAST,
our special collaboration has realized.
ANTIPAST's socks have been completely reborn with hand knitting by Hikaru Noguchi.
These socks will be available from November 30 to December 27.
For the Holiday gift to someone you love or to yourself!
*Sorry but we only ship within Japan. International delivery is not available.
We appreciate your understanding.