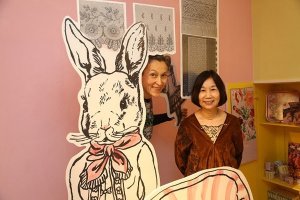 先日もご紹介いたしましたナタリーレテコラボレーションアイテムの発売に伴い、
下記のホームページ内にて、ナタリーさん、Lamp harajukuディレクター・矢野悦子さん、弊社デザイナー・ジヌシ ジュンコとの対談が掲載されました。
対談 「EVERY OBJECT IS ALIVE」 贈り物に想いを込めて
今回のコラボレーションの企画につ始まり、ギフトにまつわるエピソードなど…
これからのシーズンにぴったりの内容となっております。
ぜひご覧くださいませ。
An interview with Nathalie Lété, Etsuko Yano(Director of Lamp Harajuku store) and our designer Junko Jinushi came out on the following website.
Interview:EVERY OBJECT IS ALIVE
*This article is only in Japanese.
They talked about collabotated items for this season, and the episodes of impressive gifts they gave or took.
Please check it out as a inspiration for coming holiday season.