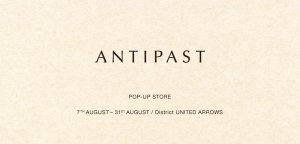 原宿のDistrict UNITED ARROWSにて、メンズソックスのポップアップイベントを開催いたします。
アーカイブコレクションからもアイテムをピックアップし
シンプルなものから夏らしい柄まで、バリエーション豊富にご覧いただけます。
ぜひこの機会にお出かけください。
2020年8月7日(金)- 8月31日(火)
District UNITED ARROWS
下記ウェブサイトでは展開予定アイテムの一部をご紹介いただいております。
MENS SOCKS POP-UP STORE @ UNITED ARROWS
District UNITED ARROWS store in Harajuku will launch ANTIPAST men's socks pop-up store.
They will carry various of our staple mens socks to archived rare finds!
Please visit the locations and take a look to find your favorite.
7, August 2020(Fri) – 31, August 2020(Tue)
@ District UNITED ARROWS (Harajuku)
Please take a look at UNITED ARROWS news post  for more details regards to this event.