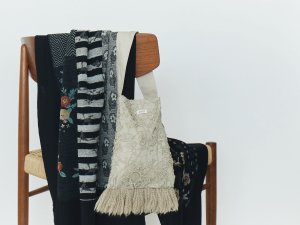 11月12日(金)より
ONLINE STORE に新たなアイテム、『Piece Peace Products』が登場いたします。
ANTIPAST のレース生地やソックス柄生地を使用した、バッグやストールは
ひとつひとつ柄や組み合わせの異なるデザインです。
ハギレや材料を無駄にしない、古いものから新しいものを生み出す取り組みから生まれたアイテムです。
ぜひご覧くださいませ。
New items, "Piece Peace Products" are coming to our E-store on November 12 (fri).
All of them are 'one of a kind', made with our sock fabric or original lace fabric from our previous collection.
To realize sustainability, ANTIPAST make new products with our scraps occurred while manufacturing.
*Sorry but we only ship within Japan. International delivery is not available.
We appreciate your understanding.