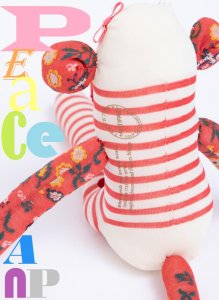 ANTIPAST のソックスや余り生地から生まれたソックモンキー。
そして先シーズンから同じくハギレを使用して作製している布マスク。
今シーズンも、それらの売上の一部を
ユニセフと国境なき医師団の新型コロナウイルス感染症危機対応募金へ寄付いたしました。
これからも残った材料を無駄なく使い、
その売上の一部で世界中の平和を守る活動を支援していきます。
ANTIPAST's sock monkey is made by old unused socks and fabric scraps.
We have also made fabric masks using our leftovers since last year.
Parts of thier sales have been donated to UNICEF,
and to Médecins Sans Frontières for the countermeasures for COVID-19 infection.
We will support world peace and health by using our material without waste.